Tranquility Cottage
Quiet Cottage Among Pines Near Beach
Bernard, Mt Desert Island, Maine
EMAIL info@mtdesertvacation.com
Tranquility Cottage is a spacious three-bedroom shingle-style home surrounded by quiet evergreen woods. This year-round cottage combines the comforts you would expect to find in a country inn with the privacy and freedom of a well-appointed private home. Every effort has been made to provide visitors with the components of a relaxing and memorable vacation.
Located on the Quiet Side of Mt. Desert Island, Tranquility Cottage is just minutes from the beauties of Acadia National Park. Stroll from the doorstep to the beach or fishing harbor, visit Bass Harbor Light, climb the nearby mountain trails for breathtaking views, go canoeing, kayaking, and biking. The house supplies guidebooks, maps, brochures, and specific recommendations to help guests plan each day's adventures. Or, just enjoy Tranquility Cottage's peaceful setting. Pick wild blueberries beside the deck, or pick a book from the shelf and unwind. At night you can gaze up at spectacular stars away from town lights while preparing dinner on the deck, or drive ten minutes to the charming restaurants and shops of Southwest Harbor. Even closer to home is Thurston's Lobster Pound, a ten-minute walk through the picturesque fishing village of Bernard.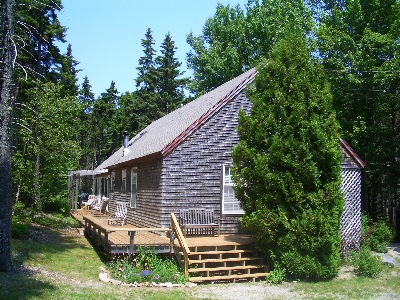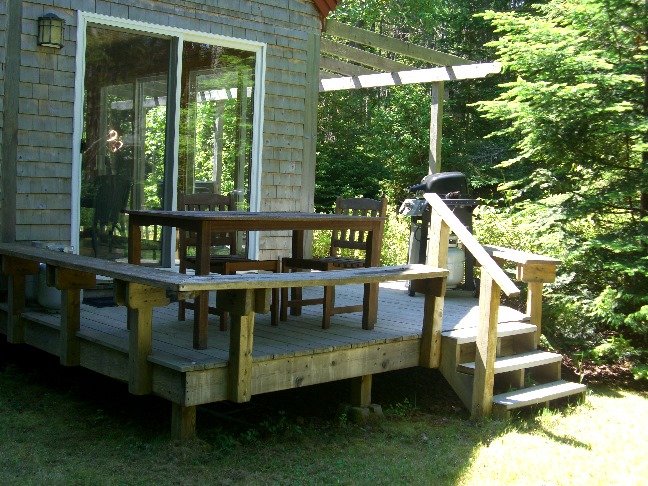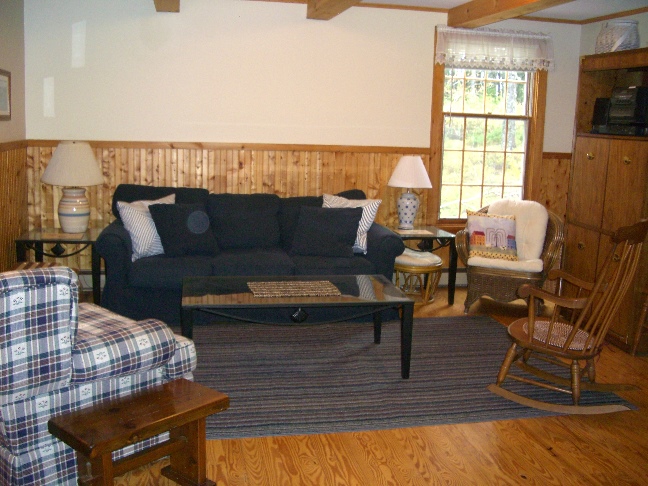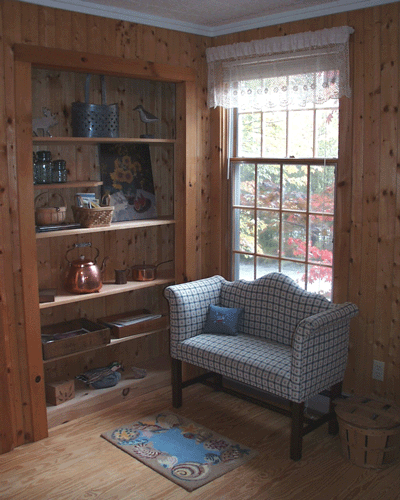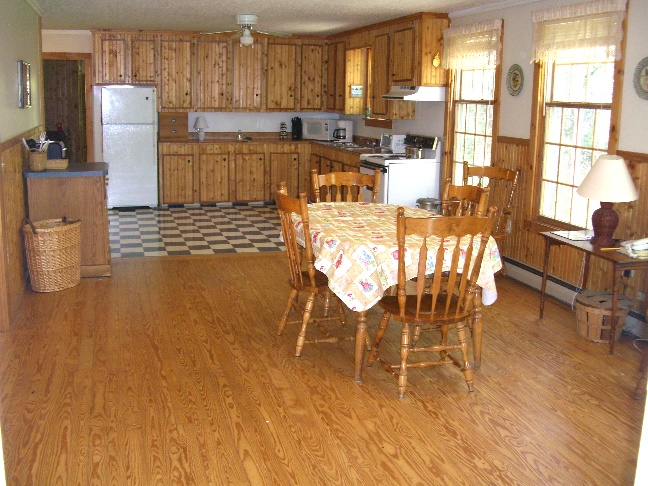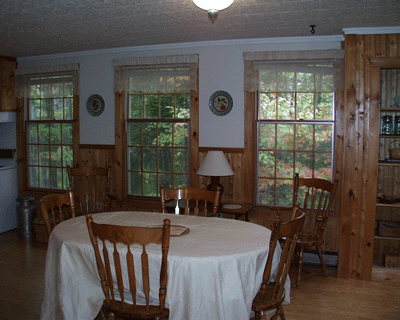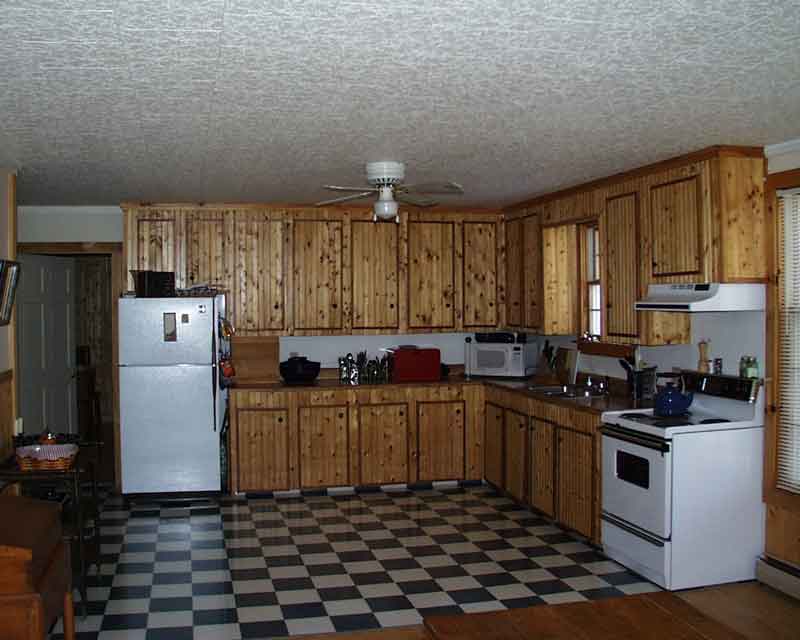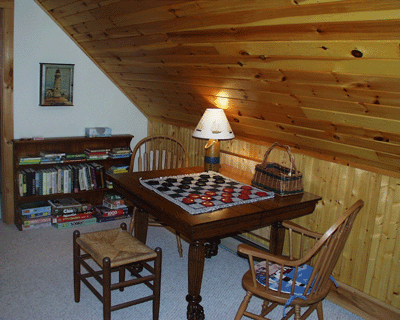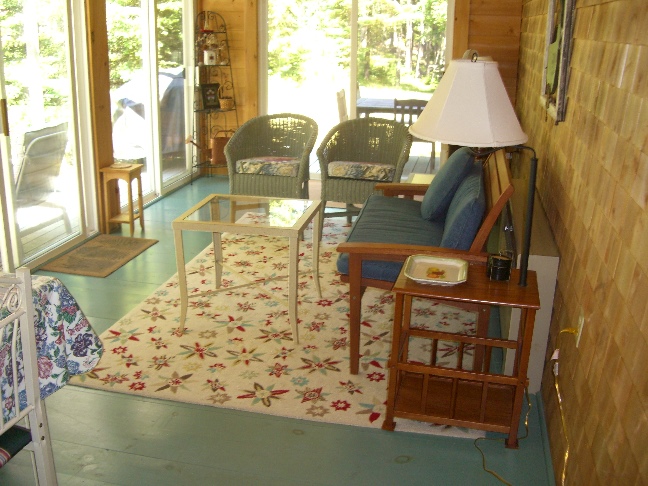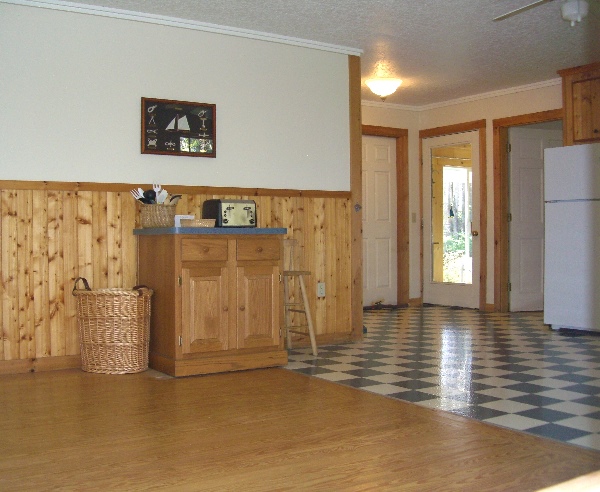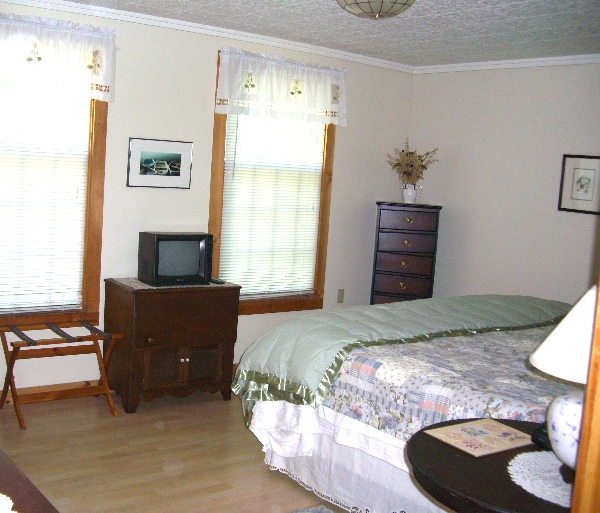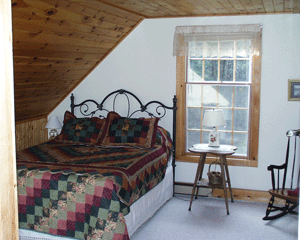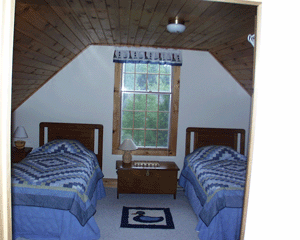 Each room of the house has been thoughtfully decorated with a comfortable blend of new and antique furnishings. The cottage's first floor features a large, sun-filled enclosed porch with both seating and dining areas, from which you can step out onto the 80-foot wraparound deck. There is a master bedroom with king bed and private full bath. The open floor plan includes pine-paneled living room, dining room, and large well-equipped kitchen. A laundry/utility room completes the first floor.
Upstairs are two pine-paneled, skylit bedrooms. One has a queen-sized bed, and the other has two twins. Like the master bedroom, they are roomy, and furnished with comfortable beds and bedding. The two bedrooms are separated by the large "rainy day" room, which holds shelves filled with books and games. The second floor also contains a bathroom with shower. Bathrooms are supplied with a variety of soaps, and luxurious towels.
Located just off the main road of quiet Bernard village, Tranquility Cottage is close to many of Mount Desert Island's attractions. Back Beach, a boat ramp, Thurston's Lobster Pound, and Bernard's picturesque fishing harbor are all within walking distance. Within a few minutes' drive are the Bass Harbor Lighthouse, some of Acadia's many hiking trails, and the restaurants and shops of Southwest Harbor. The free Island Explorer bus, provided to help visitors travel easily around the island, passes by the foot of our private road.
Local hikes will bring you to these views:
From top of Cadillac Mt Wonderland Top of Jordan Pond Bernard Dock Back Beach
Click on the lobster for info...Click on the bus for maps....Click for live view from Cadillac Mountain...Bass Harbor Lighthouse
For beautiful photos of Acadia and other info, check out AcadiaMagic.com or click on Greg Hartford's mountain view above.
Greg Hartford has published a book of his fabulous photos the "Best Of Bar Harbor" -CLICK HERE for more information.
---
In addition to a washer and dryer (we provide detergent), the following amenities are provided: Gas grill, picnic table, cable television, VCR, stereo with CD player, DVD player, clock radios, microwave, toaster, toaster oven, blender, telephones, answering machine, hair dryers. We also supply some paper goods, foil, dish, soap, condiments and spices (Note: beach towels are not provided; please bring your own)
Internet- secure wireless cable
Upon arrival you will receive a complimentary welcome package.
PETS: Because two of the owners' family members have severe animal-induced asthma, we must require that visitors leave their pets at home. We love animals too, but can't have them in the house even for a few hours.
NO SMOKING: We have a strict no-smoking policy both indoors and out, not only because of the medical conditions of our family members but also because of the risk of fire.
---
Infor and rates https://www.flipkey.com/mount-desert-vacation-rentals/p294025/
Click---------> GUESTBOOK and Renters' Reviews <--------click here
The State of Maine adds a 7% Lodging tax to all rates
For other dates- please call

Rentals are Saturday to Saturday. A $500 refundable security deposit is required
Information and other links to complete your vacation
Acadia National Park- Official site Southwest Harbor~Tremont Chamber of Commerce